Welcome our page
Brisbane Cavoodles 

Getting to Know Me:
Known as Brisbane Cavoodle Breeder & have now become Brisbane Cavoodles as a registered business.
I am a small boutique breeder of Cavoodles in Brisbane, Queensland. An ethical and registered breeder. My husband, myself and children love our dogs and they are extremely well taken care off in every aspect. We have moved to 10 beautiful lush green acres. Our dogs have lots of room to play & explore our property now we have the fenceing all completed. 
We provide an information folder, passport and 6 weeks free pet insurance, a complete takehome puppy kit with lots added into our kits, (take home kit is unavailable if transportation is required). 
Getting to Know me: We pride ourselves on the way we raise our puppies. Our dogs are trained and live inside our home with their humans, Includeing sleeping, (there bedrooms are in our home). Our dogs go in and outside as they please and are exercised and played with regularly. Our dogs have beautiful temperaments, and clear of hereditary problems. They are very loving and sweet natured not just beautiful looking. We treat our dogs with care and give them lots of love so that they will be loving social pets. They only ever have positive things happen to them while in our care. They even have pool time. Our children help us maintain happy, healthy dogs. Our dogs are regularly wormed (including heart worm), and have flea and tick protection. Our puppies are wormed every 2 weeks, (drontal) and are vaccinated, microchipped, vet checked and leave here here from 8 to 10 weeks. We provide them with the best veterinary care. Our goal is to make it an easy transition from our loving home to yours. 
(Angie)- I am certified in dog care, canine biology, breeding science, genetics and defects, anatomy, embryology & fetal development, nutrition and preventative health, illnesses and treatments, cleaning/ disinfecting and biosecurity, grooming, dog cpr and first aid. I also have my humans cpr and first aid certificates as I cared for people before changing to puppies. I have completed dog breeding master courses as well as doing food safety as an added bonus. I continue to update my knowledge and skills on a regular basis; in return keeping my dogs as safe as possible.
 
We use the Puppy Culture protocols. This program is a structured puppy raising programme that we follow, to give our puppies the skills and experience necessary to lead their best life possible, to become a much treasured family pet. Puppy Culture is truely a gold standard in puppy rearing and early socialisation, this is as important as breeding healthy puppies. Somethings that are covered are early neurological stimulation, enrichment, early socialisation, communication and problem prevention. We recommend you continuing on with the owners guide of puppy culture for your puppy when he/she go home with you to get the most out of it. Our puppies lead our program, and follow and direct us  how they want to learn. So what I may do for one puppy I may do different for another. Purely to focus on bringing out that particular puppies strengths, weaknesses, personalities etc.
We feed high quality food such as Ziwi Peak, MFM and healthy balanced homemade raw feeding and cooked meals & raw bones as a combination at meal times. We quite often put our cookups on Instagram, feel free to jump over and check it out. We do a fantastic variety. Great diets and nutrition reflect in the dogs coats and health and goes through to their puppies. There are also many raw feeding groups on fb that you can join as they are a wealth of information. Once our puppies have started the weaning process they are transitioned onto Meal 4 Mutts.
My parents had their own breeding program as I was growing up for many years. And my husbands Aunty is also a breeder but of miniature goats. We have huge respect for all animals  and have always had dogs in our lives. My love for Cavoodles came from my husband buying me my very first cavoodle one Christmas. Then our need to learn everything soon followed. We are constantly reading and studying ways to improve our breeding program. Our dogs are raised along side our 8 children in our family home getting used to everyday things, including the vacuum cleaner. Our grandchildren are brought over regularly and the dogs just love the kids big and small.
We do extensive specialist testing for eyes and heart on our adults. In addition we also DNA test. These tests are completed through Orivet. We do full breed profiles (FBP's), FBPs are breed specific genetic health screenings for diseases and coat testing that are relevant to each breed. My dogs are not AFFECTED. Results of parent will be sighted upon puppy pickup. Our dogs also have the best veterinarian care and are seen on a regular basis as apart of there regime. We are dedicated to breeding high quality companion puppies for you.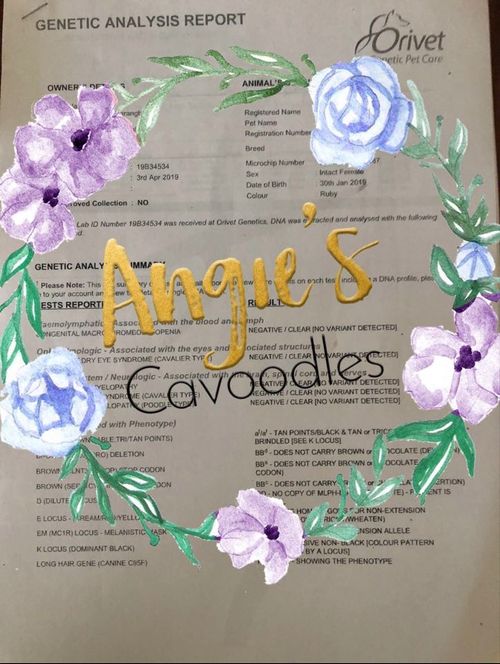 Tests Include 
DEGENERATIVE MYELOPATHY 
GANGLIOSIDOSIS GM2 (Poodle Type)
VON WILLEBRANDS DISEASE TYPE 1
PROGRESSIVE ROD CONE DEGENERATION (PRCD)
MUCOPOLYSACCHARIDOSIS VI
EPISODIC FALLING SYNDROME (Cavalier Type)
NEONATAL ENCEPHALOPATHY (Poodle Type)
EYE CERTIFICATION
HEART CERTIFICATION 
PATELLA - Excellent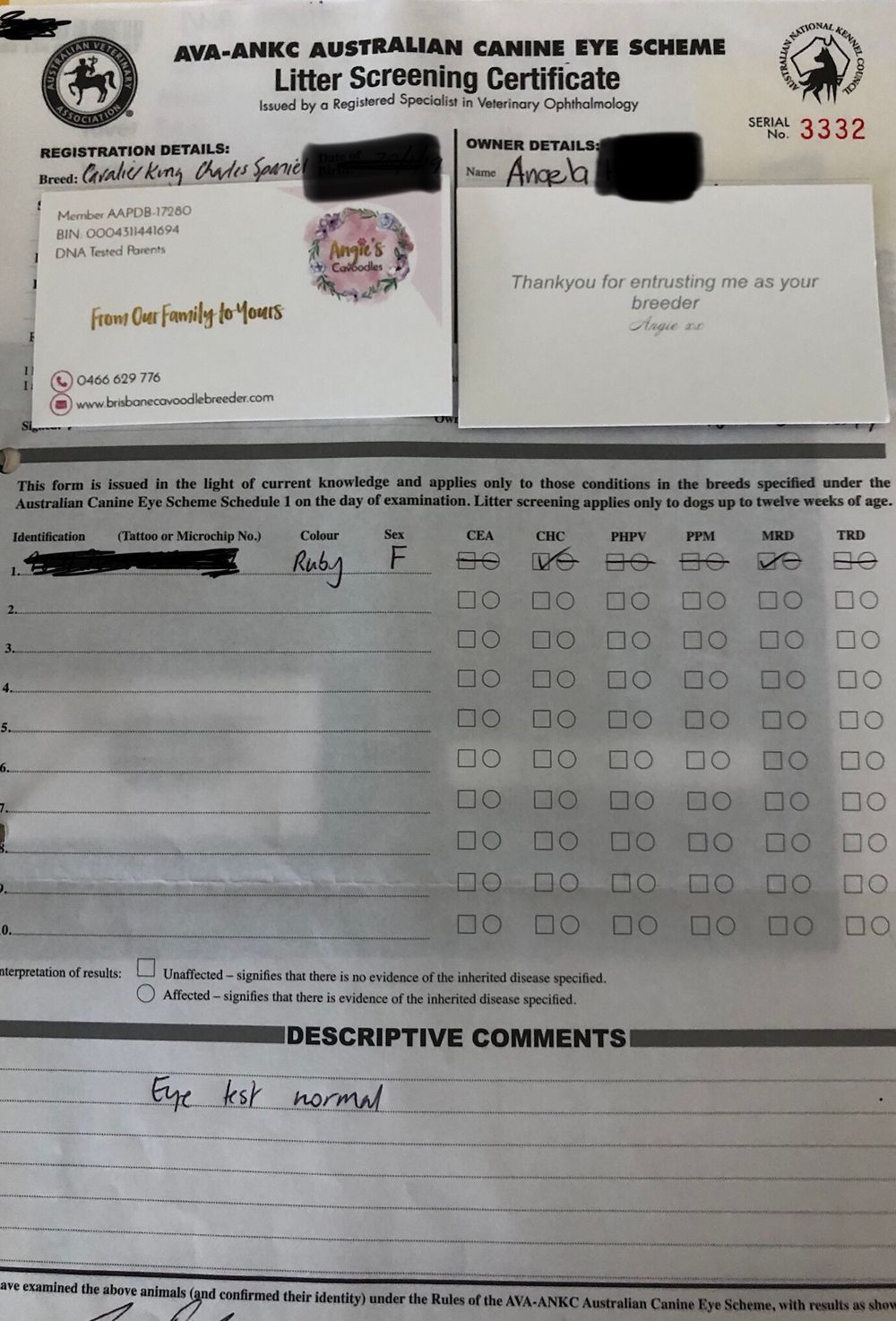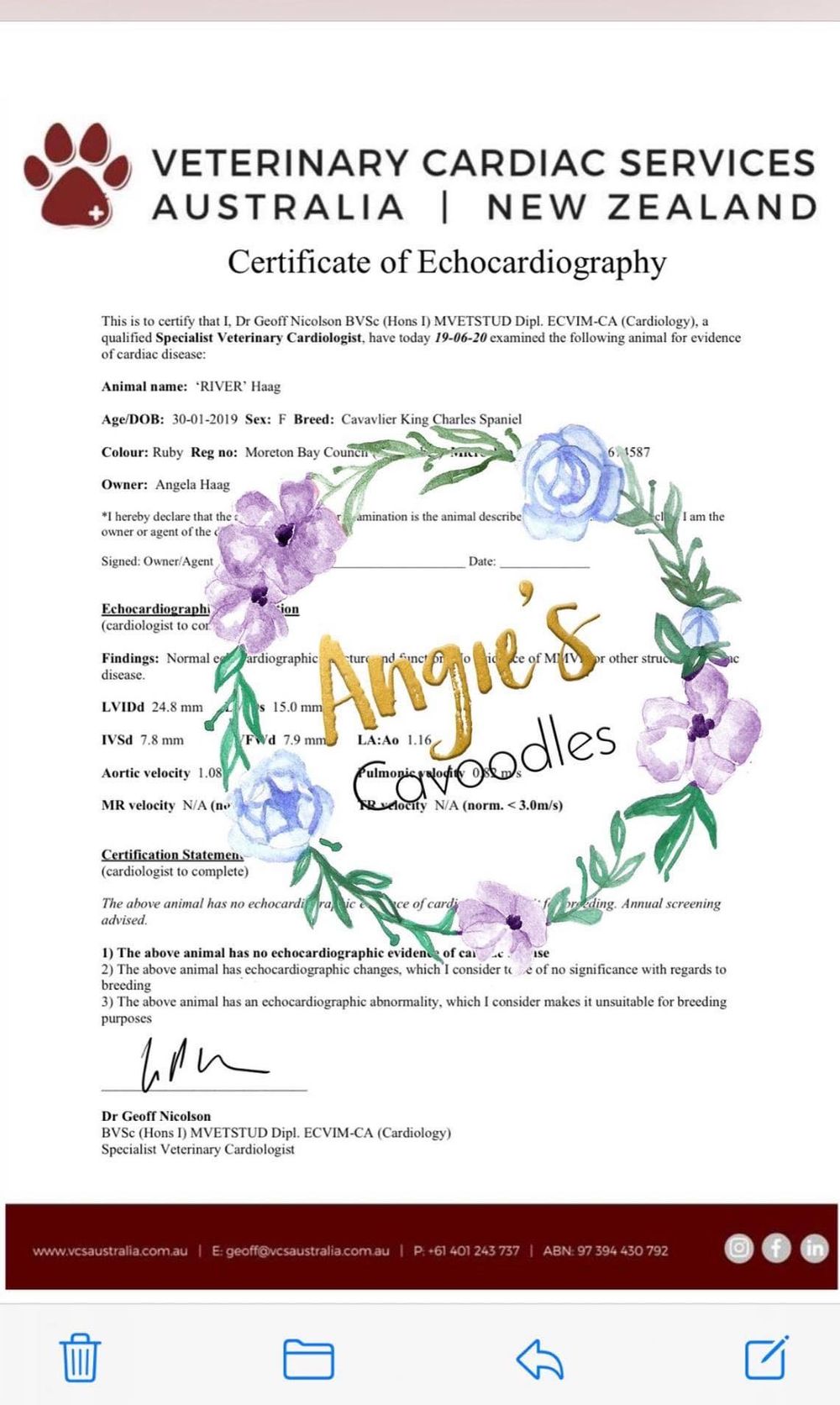 We are here 7 days a week 24 hrs a day. There is always someone here, our dogs are never left by themselves, some of that time we are training, cuddling, playing, exercising, grooming, disinfecting and ensureing a clean puppy area. They absolutely love interaction, and we set many different enrichment areas up to bring out the best in your puppy as they go through their milestones. Mum self weans her babies, We do not believe in separating them. They socialise and play! Our puppies are situated in the middle of our home for a large amount of interaction, have a look at our YouTube video below of one of our play areas. It constantly changes on a week to week basis as your puppy goes through the milestones. Our big dogs love spa days, and each one would sit there for hours if you let them. We have excellent families, 1 veterinarian and a vet tech have some of our puppies, including a school teacher who will be training her puppy to be a therapy dog. My husband and I are most proud that our dogs are extremely good with children, families, the elderly, disabled or other family pets.
You are dealing directly with a family not a massive breeder. Therefore a more personalised approach is taken. You will receive regular updates on your puppies, until they go to your home. Our dogs live inside with there humans in our family home. We care in finding the best homes for our puppies and take bringing you the best quality puppies available very seriously. If you have not been detailed about living arrangements or how your puppy will be raised your enquiry will be overlooked. When your puppy comes to you we love to know how your puppies are going and recieving photos and updates from our families, so please feel free to stay in contact with us. Messenger will retrieve a quicker response than phoning before your first initial contact as we have been overwhelmed with enquiry. (Please bare in mind as we receive enquiries it is not possible to get back to everyone when we don't have litters available). Head over to our Facebook  page to keep updated with any future litters. We don't provide estimates when litters are planned as 'nature takes its course'.
 
Bringing your puppy home is a major commitment, please consider the time you have when your puppy is due to come home, are you prepared? Where will he/she sleep, time for toileting and training, how will you toilet train- outdoors, pee pads, grass mats etc. have you considered puppy school, do you have patience, do you need to puppy proof your home, have you got your crate to bring your puppy home in, harness or seatbelt, (it is illegal to travel without your pet safely restrained), what will you feed your puppy, any ongoing costs such as grooming, worming, immunisation/veterinary needs, toys, bedding, council registration and ongoing puppy insurance.
 
FUN FACT........ Did you know that the average dog is happier than the average person.
Cam & Angie xx