Welcome to Brisbane Cavoodles: Where Love, Commitment, and Quality Come Together for the Perfect Furry Companion!
As a passionate husband and wife team, both Angie & Cam take great pride in our role as ethical breeders at Brisbane Cavoodles. Our journey began with a simple vision: to raise happy, healthy, and well-socialized Cavoodles that bring joy to families across Brisbane and beyond. 
With every wagging tail, we are reminded of why we are dedicated to this wonderful breed.
Our breeding program is rooted in a deep commitment to the well-being of our dogs and the puppies they produce. It all starts with our carefully selected breeding dogs, which undergo rigorous health testing to ensure they are free from genetic diseases. By adhering to these high standards, we ensure that our Cavoodles are born with the best possible genetic foundation, setting them up for a long and healthy life by your side.
But health is just one aspect of our holistic approach. We understand that a well-rounded Cavoodle goes beyond physical well-being. That's why we have developed a comprehensive puppy raising program that focuses on early socialization and training. We follow the renowned Puppy Culture and Empowered breeder curriculum, which encompasses a series of age-appropriate activities designed to stimulate and shape our puppies' development.
From the critical early days of the puppy's life, we prioritise various aspects to ensure the well-rounded development of each puppy.
Starting from days 3 to 16, Brisbane Cavoodles focuses on the Early Neurological Stimulation (ENS) technique. This involves gentle handling, early scent introduction, and controlled mild stress exercises that aim to create positive neurological effects and enhance the puppy's stress tolerance. ENS helps the puppies develop resilience and adaptability, which are valuable traits for their future lives.
The program also emphasizes early scent introduction, exposing the puppies to different scents during their early development. This practice helps stimulate their olfactory senses and lays the foundation for scent-related training or activities later in life.
Brisbane Cavoodles is committed to creating a rich sensory environment for our puppies. We expose them to a variety of sounds, including household noises, music, and everyday sounds. This exposure helps the puppies become familiar and comfortable with different sounds, minimizing the chances of noise-related anxiety or fear in their adult lives.
Furthermore, we incorporate various textures into the puppies' environment. By introducing them to different surfaces and objects with varying textures, the puppies develop tactile awareness and adaptability. This exposure helps them become well-adjusted to different textures they may encounter in their future homes or environments.
In addition to sensory stimulation, Brisbane Cavoodles also focuses on potty training. We employ a graded training approach, teaching the puppies proper toileting habits from an early age. This process involves introducing the puppies to appropriate toileting areas and establishing consistent routines, setting them up for success in their new homes.
By combining Puppy Culture and Empowered Breeder principles, Brisbane Cavoodles aims to produce well-socialized, confident, and adaptable puppies. Our comprehensive approach, encompassing early neurological stimulation, sensory exposure, and toilet training, helps ensure that each puppy receives the best possible foundation for a happy and fulfilling life.
From the moment our Cavoodle puppies are born, they are raised in our family home, surrounded by the sights, sounds, and love of our eight children. This nurturing environment helps them become accustomed to the daily experiences of a busy household, ensuring they grow into confident and well-adjusted companions. Our puppies are exposed to various stimuli, including different rooms, other animals and people, which helps them become adaptable to new situations and environments.
We firmly believe in the power of positive reinforcement. Through the Empowered Breeder program, we employ reward-based training methods that build a strong foundation of obedience and good behavior. Our puppies learn essential life skills such as crate training, potty training, and basic commands, which will greatly assist you in further training and bonding with your new furry friend.
As ethical breeders, our commitment extends beyond the well-being of our own dogs. We actively contribute to the Cavoodle community by sharing our knowledge and experience. We strive to educate potential owners about responsible dog ownership, including the importance of regular vet care, proper nutrition, and the ongoing commitment required to ensure a happy and healthy Cavoodle.
In our dedication to transparency and professionalism, we changed our name from Brisbane Cavoodle Breeder to Brisbane Cavoodles. This change represents our growth as a breeder and our ongoing commitment to excellence. We invite you to explore our newly redesigned website at www.brisbanecavoodles.com.au, where you can find valuable information about our breeding philosophy, health testing protocols, training programs, and testimonials from satisfied Cavoodle owners. 

"Did you know that Brisbane Cavoodles is actually listed in some major dog appendices? We have been recognized and featured in well-known publications like Dogs Journal and Dogs Breed Expert as the best dog breeder in Australia.. This recognition speaks to the high quality and reputable breeding program we have established. It's a testament to our dedication and commitment to producing exceptional Cavoodles that meet industry standards and breed requirements."
When you choose a Cavoodle from Brisbane Cavoodles, you are not just bringing home a pet; you are becoming a part of our extended family. We are dedicated to providing ongoing support and guidance throughout your journey as a Cavoodle owner. We have a great community of Cavoodle enthusiasts over on our social pages. We offer resources, training tips, and a listening ear whenever you need it, because we believe that a strong bond between you and your Cavoodle is the key to a lifetime of happiness. 
 
At Brisbane Cavoodles, we pour our hearts into every aspect of the puppy experience, and our commitment to you and your new furry family member is evident in the special puppy pack folder we provide.
Imagine opening this carefully curated puppy pack folder, overflowing with love and knowledge, just for you and your adorable Cavoodle. Inside its pages, you'll discover a treasure trove of invaluable resources, discount vouchers for grooming, photography, training, expert tips, puppy insurance folders for your free 8 weeks and heartfelt guidance to ensure your journey together is filled with joy and success.
Our puppy pack folder is like a warm embrace, wrapping you in a sense of support and confidence as you embark on this wonderful adventure. It's not just a collection of documents; it's a personal connection, a way for us to share our knowledge and passion for Cavoodles with you.
From day one, we want you to feel empowered and equipped to provide the best care for your new companion. That's why we lovingly prepare the puppy pack folder with detailed care instructions, training guides filled with encouragement, and insights into the unique needs of Cavoodles.
We understand that every puppy has a one-of-a-kind personality that deserves to be understood and celebrated. That's why we take the time to apply a heartfelt temperament test, which allows us to truly get to know your precious Cavoodle on a deeper level. All cavoodles are a loving breed, this is why we choose this breed.
Through this lovingly applied temperament test, we uncover the nuances of your Cavoodle's character, discovering their strengths, quirks, and potential areas for growth. This knowledge becomes a bridge between you and your furry friend, helping you build a stronger bond and create a nurturing environment tailored to their individual needs.
At Brisbane Cavoodles, we believe that love, care, and attention to detail make all the difference. Our puppy pack folder, brimming with warmth and expertise, along with our heartfelt temperament test, are just two examples of the dedication and love we pour into our program.
Join our Brisbane Cavoodles family, and let us shower you with support, guidance, and a wealth of love as you embark on this extraordinary journey with your precious Cavoodle companion.

Are you ready to embark on a furry adventure with a Cavoodle by your side? Contact us today to inquire about our current and upcoming litters. Discover the unconditional love, loyalty, and unwavering joy that only a Cavoodle can bring into your life. Let Brisbane Cavoodles be your trusted partner on this exciting journey.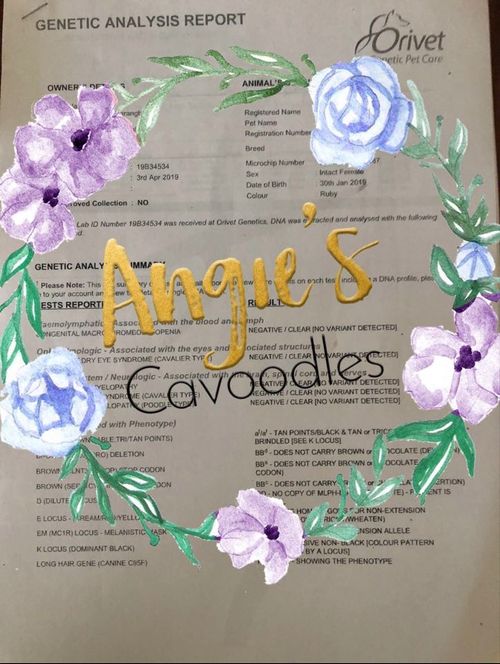 Tests Include 
DEGENERATIVE MYELOPATHY 
GANGLIOSIDOSIS GM2 (Poodle Type)
VON WILLEBRANDS DISEASE TYPE 1
PROGRESSIVE ROD CONE DEGENERATION (PRCD)
MUCOPOLYSACCHARIDOSIS VI
EPISODIC FALLING SYNDROME (Cavalier Type)
NEONATAL ENCEPHALOPATHY (Poodle Type)
EYE CERTIFICATION
HEART CERTIFICATION 
PATELLA - Excellent